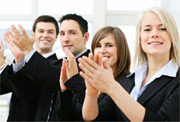 Don't just take our word for it.
See what our clients are saying about Madison Hill Communications.
Client testimonials
I am always impressed with Madison Hill's marketing insights, and the quality and creativity of their projects. When engaging them, a company is really getting three teams in one: marketing strategists, exceptionally good writers, and expert graphic designers. The most productive team I ever worked with on any of the projects I've been part of in the past 20 years. They're going to make you look very good!
Madison Hill is able to take concepts from the technical staff and turn them into great material to give to our clients. Their innovations allow us to really succeed in our professional services goals.
Madison Hill understands technology, they understand solutions, and they understand how to show value in these solutions. Madison Hill has a rare blend of talents, and they are very good and fast.
I was able to depend on Madison Hill to create and maintain all of the technical and marketing documentation needed to run our division. The materials they created were of the highest quality, extremely well written and polished.
This year I hired Madison Hill to help us with our new web site launch, client collateral, and corporate marketing materials. Their approach was well organized and kept us to a tight schedule, which was important to us.
I can never say enough about Madison Hill. They always deliver for me. Whether it's re-writing my material, or editing business plans and presentations, they always make me look good!
Madison Hill has come through for my team in several large customer projects with tight deadlines. Their ability to transform unpolished, technical documents to finished and professional products is amazing.
Our clients include: